*This post contains affiliate links, and we will be compensated if you buy after clicking on our links
Allowing your cat to roam outdoors has huge benefits for their well being, but it can be stressful not knowing where they are. Cat tracking collars offer an excellent way of keeping track of your cat, and mitigate some of the risks of allowing them outdoors.
As a cat mom to 7 cats who are all allowed outdoors, I've experienced the heartbreak of cats disappearing and never knowing what happened to them. That was before I knew about cat tracking collars. Now I use them all the time to keep my cats safe when they go outside. In this article, I will explore the best selling cat trackers available on the market. I'll use my research, as well as my own experience of using these collars to help you choose the best cat GPS collar for your cat.
The best cat trackers have a long battery life, a long distance range and a good quality, easy to use interface. After extensive testing, research and personal use, I found that the Tractive GPS Tracker is the best cat GPS collar mounted tracker. Not all situations are the same however, so I've included reviews of the best trackers for each category.
---
Our Best Cat GPS Collars, Trackers and Tags
---
Best Cat GPS Collars, Trackers and Tags Reviewed
All of the trackers reviewed below offer reliable and accurate location tracking, lightweight design, and user-friendly features.
---
(Overall Best Cat GPS Tracker)
Technology: GPS
Subscription required?: Yes
Battery: 2-5 days
Size: 2.16in x 1.1in x 0.66in / 55mm x 28mm x 17mm
Weight: 0.8 oz / 25g
Range: Unlimited
Compatibility: Andriod 8+, iOS 14+
I have found the Tractive GPS Cat Tracker to be the best cat GPS tracker due to its lightweight design, waterproof features, and reliable tracking capabilities.
This tracker is specifically designed for cats. It features Geofence technology, allowing you to set up safe zones for your cat. The app provides an alert when the cat leaves the safe zone.
The app is reliable and easy to use, with a host of features including activity, sleep, family sharing, worldwide coverage and most importantly, real-time live tracking. Personally I love to check on for real time updates on my cat's location several times a day. I also love checking the history of where she has been in the last 24 hours, and how far she has travelled. There is a social element as well, as you can connect with fellow cat parents in your community, and monitor your cat's activity on the leader board tables.
The Tractive GPS cat tracker is 100% waterproof and has an integral rechargeable battery which lasts around 48 hours between charges. This can be extended by implementing the battery saving mode, which updates the location tracking less frequently. You can also set up a Power Saving Zone whereby the tracker uses a trusted WiFi network to keep track of you cat. If your cat stays within the WiFi zone, I've found the battery life is around 5-6 days.
In terms of size, the Tractive is one of the largest trackers and is suitable for cats weighing 9lbs and over. My cat is a small, lightly built female but she has no problems wearing the tracker, and tolerates it really well. One issue I found was that due to its weight, it can pull the collar loose to the point where my cat was able to get her paw through the collar. So I make sure the collar is as tight as is comfortable for my cat, and that it can't come loose.
The Tractive GPS tracker has a built-in SIM card to upload and store the GPS data, which is why a subscription is required. Tractive offers affordable subscription plans which can be paid monthly, or every 1, 2 or 5 years. Compared to other trackers, Tractive is known for its reliability and accuracy in tracking a cat's location. Additionally, it offers worldwide coverage and additional features.
The only downside I have found with the Tractive is the battery life. If my cat is out and about, being busy and active, and covering a lot of miles, the battery can last as little as 2 days. It is stressful trying to find my cat before the battery runs out. A previous version of the Tractive had a battery that you could swap out with a spare. The newer models have integrated batteries however, so you have to charge the unit as a whole, which takes over an hour.
Overall, though, I think that the Tractive GPS Cat Tracker is the best cat tracker on the market. It gives accurate real time location, has the best app and features, an unlimited range, plus it works all over the world.
---
Cat Tracker With the Best Battery Life
Technology: Bluetooth & the "Find My" network
Subscription required?: No
Battery: 1 year
Size: 1.6in x 1.6in x 0.31in / 31.9mm x 31.9mm x 8mm
Weight: 0.4 oz / 11g
Range: Unlimited
Compatibility: Apple iOS 14.5+
Apple do not market AirTags as pet trackers, but an increasing number of people (myself included) are using them to track their cats. AirTags are limited somewhat in that they are only compatible with iPhone or iPad. But if you already own one of these items however, AirTags can be used as an incredibly economic way to track your cat.
In order to convert the AirTag into a cat tracker you need a holder to attach it to your cat's collar. I like the silicone ones such as the Whalezon Airtag Cat Collar Holder which hold it securely in place without it dangling. You then track your cat using the Find My app on your iPhone.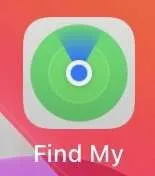 So how do AirTags work? Firstly, they do not contain a GPS chip. Instead, Apple uses its U1 chip with ultra-wideband technology to create a network that connects to the 1.65 billion Apple devices out there. This network helps locate an AirTag by using the connected devices. According to Apple, AirTags do not store any location data or history. The communication with the Find My network is encrypted, ensuring that only the device owner can access its location data. Apple and others do not know the identity or location of the devices that assist in finding the AirTag. In simpler terms, an AirTag owner can only find the location of their own AirTag and not any other nearby Apple devices.
Basically, in order to track your cat, the cat needs to be in an area with iPhone users! So if your cat tends to wander off into uninhabited spaces then it is unlikely to show up on the network. But if they roam in suburban areas populated by people, they will be tracked by the Find My network.
The best feature of the AirTag is the year long battery life. I love the Tractive GPS Cat Tracker, but one of my cats goes roaming for days, and her Tractive battery needed charging every other day. With the older Tractive models you could buy spare batteries, but the latest ones have an integral battery so it just wasn't practical for her; my cat objected to being brought home to be charged every two days, and having two Tractive trackers with two subscriptions wasn't economically viable. Now with the Apple AirTag, I don't have to worry about the battery going flat. My cat prefers it too, as it is smaller and lighter than the Tractive.
AirTags are water resistant and dust proof, and stand up well to the rigours of cat activity. The battery is easily replaced by pressing and twisting the centre of the tag. It takes a single CR2032 coin cell battery.
The interface and features of the AirTag are somewhat limited compared to the Tractive. There is no activity log, community or virtual fences etc, and you don't get real time tracking. You basically get the cat's location when it is near an iPhone. You can, however, set up alerts to notify you when your cat has been located (found), and if another iPhone user finds your cat they can scan the AirTag and send you a message.
Overall I really like using the AirTag to track my cat. It has the advantages of a GPS tracker in terms of unlimited range, without the monthly subscription costs and short battery life. On the downside, it is light on features and it only works with an iPhone or iPad. It is definitely a great choice of tracker if battery life and unlimited range are important to you, and is our choice as cat tracker with the best battery life.
---
Best GPS Cat Collar for Small Cats
Technology: GPS
Subscription required?: Yes
Battery: Up to 10 days
Size: 0.5in x 2.3in x 0.9in / 60.5 mm x 24.5 mm x 15 mm
Weight: 0.95 oz / 27g
Range: Unlimited
Compatibility: Andriod 5+, iOS 13.6+
The Weenect XS offers advanced tracking capabilities which allow cat owners to monitor their feline's location in real-time, with location updates every second. This GPS device is specifically designed for cats and provides reliable and accurate tracking.
It features a small and lightweight design that easily attaches to the cat's collar, and markets itself as the smallest GPS tracker on the market.
With the Weenect XS, cat owners can set up safe zones and receive notifications when their cat leaves or enters these areas. Another neat features is the recall training, which you can use to train your cat to come home when you make the tracker vibrate.
The device provides real-time location updates and your cat is tracked via an easy to use smartphone app. It relies on decent cell coverage, so tracking will be lost in network dead spots.
Additionally, the Weenect XS offers a 10 day battery life if used within WiFi zones. It is waterproof, ensuring durability and functionality in various environments. The manufacturers also offer a full lifetime warranty.
Being a GPS tracker, a subscription is required, and this currently cheaper than that offered by Tractive. The tracker itself is also competitively priced when compared to the Tractive.
Overall, the Weenect XS is a valuable tool for cat owners who want to keep track of their furry friends and ensure their safety at all times. It compares very favourably with the Tractive, and has the edge in some features such as price, the training feature and the lifetime warranty. It has only recently become available in the USA and Canada, and feedback so far has been mixed. Many purchasers have found that it does not track their cats accurately, and the battery life is much shorter than claimed. If you are located in an area with good network coverage thought, this tracker should work fine. This tracker packs a lot of punch into it's tiny dimensions, so it is our choice as best GPS cat collar for small cats.
---
Best Cat Tracker for Kittens
Technology: RF
Subscription required?: No
Battery: 6 months
Size: 30 mm x 20 mm x 9 mm / 1.18in (H) x .79in (W) x 0.35in (D)
Weight: 5 grams
Range: 500 feet / 152 meters
Compatibility: N/A (supplied with handset)
The Tabcat Cat Tracker (Version 2) stands out among the best cat RF (Radio Frequency) trackers for its reliable tracking capabilities, which claim to be more accurate than GPS. It costs around double that of a GPS unit, but there are no monthly subscription costs thereafter. In the box you get 2 homing tags, 2 protective cases which attach the tag to the cat's collar (not included) and a handset. You can pair one handset with up to 4 tracking tags, so it works out economically if you have multiple cats.
This tracker utilizes radio frequency technology to track cats within a range of up to 500 feet. This range is increased if you are outside and have a direct line of sight, or decreased if there are solid obstacles (walls, trees) between you and the cat. If you are out of range, you need to walk around in different directions until the handset indicates that your cat is close, then it will pinpoint your cat's location.
Weighing in at only 5 grams, the lightweight and compact design of the Tabcat V2 Cat Tracker makes it easy to attach to a cat's collar without causing stress or discomfort.
The tracker comes with a directional handset that guides users to their cat's location with audio and visual cues in the form of bleeps and flashing lights. The homing tag has a long battery life of around 6 months, and is fitted within a protective silicone case. This ensures that it can withstand the adventures of any curious feline.
The Tabcat tracker does not need a subscription so the initial purchase is the only outlay. This makes it a great choice as a budget tracker. However it lacks the range and features of the GPS trackers. It is most suitable for indoor cats, or cats that stay close to home. It's tiny size makes it our choice as the best cat tracker for kittens.
---
Best Cat Tracker for Multiple Cats
Technology: RF
Subscription required?: No
Battery: 6 months
Size: 30 mm x 20 mm x 9 mm / 1.18in (H) x .79in (W) x 0.35in (D)
Weight: 0.28 oz/8 grams
Range: 1600 feet / 500 meters
Compatibility: N/A (supplied with handset)
The Girafus Tracker is made up of a small tracking device that is worn by the cat and a handheld receiver to track your cat's location. The package includes one receiver unit, tag(s), AAA and LIR2032 batteries, charger, Velcro strap, strap, hook, screwdriver, silicon sleeve/splash proof case for tags, and a user manual.
The Girafus Tracker uses RF technology, and the tracking system works on the hot-cold principle, where the beeps get faster and more LEDs light up if you are walking in the right direction, and the opposite happens if you are walking in the wrong direction.
The Girafus Pro-track-tor works both indoors and outdoors. It can locate your cat to within a few centimeters, even if they are hiding in garages, cellars, or your neighbor's house. No GPS or phone connection is needed, and there is no monthly fee like GPS trackers. You also don't need to download any apps. The range of the tracker is up to 500 meters or 1600 feet in clear line of sight, but is reduced if the terrain is varied or there are obstacles such as trees and walls.
The cat tag is lightweight, weighing only 0.28 oz including battery. It attaches to your cat's collar with a silicon sleeve, but this fits only narrow collars. An additional Velcro strap is provided if the collar is too wide, but this makes the tag dangle and may annoy your cat. It is worth noting that neither the tag or the silicon sleeve are waterproof, and if the tag gets wet it will stop working.
You can track up to 4 pets with one base unit, just select the number of tag units you need when ordering.
The Girafus locator has a long battery life of 7 – 10 days. The charger is included in the delivery, but you have to remove the batteries from the tag with a screwdriver and place them in the charger.
In conclusion, the Girafus Pro-track-tor Cat Tracker is a great RF tracker with a better range than it's market rivals. It does have a shorter battery life than other RF trackers however. Other downsides are that it's not waterproof, and charging the batteries can be fiddly. However, it does work out to be a good choice economically, particularly if you have multiple cats. This makes it our choice of best cat tracker for multiple cats.
---
(Most Accurate GPS Cat Tracker)
Technology: GPS
Subscription required?: Yes
Battery: 7 days
Size: 37mm (W) x 50mm (H) x 12mm (D)
Weight: 0.6 oz/18 grams
Range: Unlimited
Compatibility: Android and Apple
The Jiobit Smart Tag, which has won awards, is designed to keep you connected to what matters most, including your cat! It utilizes advanced beacon technology that combines GPS, Wi-Fi, and Bluetooth to provide the best accuracy, range, and battery life. This ensures that you can stay connected with your cat, even when they are on the move. You can receive real-time alerts about your pet's location, no matter how far away they are.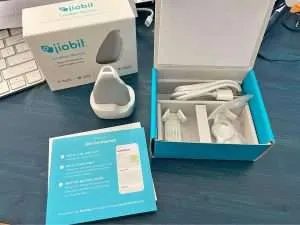 Attach the Jiobit to your cat's collar and use the smartphone app to track them from any distance. It is small and lightweight, and most cats, even those as small as 5 pounds, do not seem to mind wearing it. Its dimensions are 37mm (W) x 50mm (H) x 12mm (D), making it about the size of a teabag and lighter than a single AA battery. This makes the Jiobit the smallest and longest-lasting real-time GPS tracking device available. It is also durable and water resistant, making it perfect for cats with an active lifestyle.
The Jiobit offers live tracking, geo-fencing, and support for multiple users. It also offers smart alerts, allowing you to set up custom trusted places and receive notifications when your cat enters or leaves an area. For example you can set your home or yard as a trusted place, and receive alerts if your cat escapes or wanders away.
As with all GPS trackers, the Jiobit requires a monthly subscription data plan to stay connected, and includes national US and worldwide cellular data. Your preferred plan can be chosen during activation in the Jiobit app. No additional SIM or cellular plan is needed, and the Jiobit is compatible with both Android and Apple devices. When compared to other GPS tracker subscriptions, the Jiobit plans are quite pricey.
The Jiobit boasts a battery life of up to 30 days on a single charge under optimal conditions, eliminating the need for daily charging. It has its own secure connection to the internet and GPS, so it does not need to be tethered to any other device or hub. The Jiobit Gen 3 utilizes an all-new, 5G-compatible, low-power network that provides faster and more reliable coverage, even in rural areas and previously low-coverage zones. Its patented Progressive Beaconing technology ensures that the Jiobit is always connected by using a combination of GPS, cellular, Wi-Fi, and Bluetooth.
The battery of the Jiobit tracker learns and adapts to patterns and location history, meaning that the more Trusted Places and Care Team members it interacts with, the longer it will last. The battery can be charged via a 5V charger and has an average charge time of two hours. Under ideal conditions, with proper setup and battery learning, it can last up to 30 days on a single charge. In reality, cats rarely stay in the "optimum conditions". So, allowing for network dead spots, and your cat wandering away from WiFi and into areas without coverage such as buildings or forests, prepare for the battery to last much less than that.
In the box, you will find everything you need to connect, charge, and attach your Jiobit right away, including the Jiobit Smart Tag device with an integrated attachment loop, a charging dock, a USB charging cable, a secure loop attachment, a hem-lock attachment, and a new strap clip attachment. Additional attachments and accessories are available in the Jiobit accessory store.
Currently, the Jiobit Gen 3 tracker only works in the US, but additional international support will be added through over-the-air firmware updates in the future.
The previous Gen 2 Jiobit did suffer with poor battery life, which is greatly improved with the latest Gen 3 model. The Jiobit Gen 3 tracker is pinpoint accurate when providing location data, due to its Progressive Beaconing technology. This makes it our choice as the most accurate GPS cat tracker.
---
(Best RF Cat Tracker)
Technology: RF
Subscription required?: No
Battery: 45 days
Size: 1in (H) x 5in (W) x 0.5in (D) / 25.4mm (H) x 127mm (W) x 12.7mm (D)
Weight: 0.8 oz/22.7 grams
Range: Up to 2 miles
Compatibility: N/A (supplied with handset)
The Marco Polo Advanced Cat Tracking system is the ideal solution to keep your cats safe while they enjoy all the activities they love. It is suitable for any cat which has a collar length of 7 inches or more. No internet or cellular access is needed, and Marco Polo requires no subscription or monthly fees. It will therefore save you hundreds of dollars over the life of the system when compared to subscription-based GPS systems.
The Marco Polo Advanced Single Pet Tracking System includes a hand-held portable locator, one advanced tracking tag, one AC adapter, locator and tag charging cable, quick start and user guides. Up to two additional tracking tags (sold separately) can be added to the system at any time to allow monitoring and tracking of up to three cats.
Extremely durable, the Advanced Tracking Tag is made to withstand rough terrain and prolonged swimming. The tracking tag meets the IP67 enclosure specification. This means it can be continuously submerged under 3 ft. of water up to 30 minutes. The streamlined design also stops the tag getting caught or damaged whilst your cat goes about their adventures.
Marco Polo's range is up to 2 miles (3.2 km) in line-of-sight situations but, as with any 2-way radio system, varies with terrain and obstructions. The range reduces to approximately 1/2 mile to 1 mile (.8 to 1.6 km) in mildly rolling terrain with moderate vegetation. In typical suburban areas, the range falls to around 2000 feet. If your pet is beyond Marco Polo's initial range, you can continuously scan hundreds of acres of surrounding area as you drive or walk around until you come within range. When searching for your cat, Marco Polo acts like a personal radar system, scanning every inch of the surrounding area, including inside homes and backyards. Once within range of your cat the Marco Polo locator will guide you directly to their exact location, within inches if necessary even if they are injured or hiding – a perfect solution for finding cats that are reluctant to come in at night.
Marco Polo can monitor up to three pets, checking on each pet once every 40 seconds. You receive an alert if any pet is outside its programmable safe zone. Select one of four safety zone ranges for your cat and you will receive warnings in less than 80 seconds when your cat wanders.
The life of the battery in the tracker depends on the mode it is in. Charge live in idle mode is 15 days. Charge life in monitor mode is 45 days. Charge life in tracking mode is 3 days.
The longest battery life on the pet's collar tag is provided in the monitor mode. In this mode the tag's battery will run up to 6 weeks and the locator will warn you to charge it after 4-5 weeks. If you are continuously tracking your pet (usually only done when they are lost) the tag and locator will run for up to 3 days on a charge. If the locator is not tracking or monitoring the pet's tag, or if the pet is out of range of the system, then the collar tag can run for up to 15 days on a charge. This explanation may seem counterintuitive, but it is indeed the way the system works. For example, if you are monitoring your pet(s) to make certain they stay within the specified safety zone and it has been 3 weeks since you last charged the battery, then the battery is half discharged. If the pet then escapes, the collar tag will run for an additional week on the remaining charge.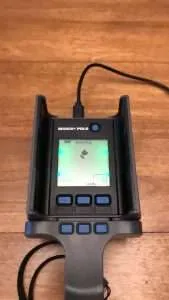 In track mode, the handheld locator communicates with the tag every 5 seconds and updates the displayed signal strength and direction on the locator's display, allowing you to home-in on the exact location of your pet. In monitor mode, the locator is kept in a convenient location, such as your kitchen counter, plugged into its charger, and it "pings" the tag on each of your pets once every 40 seconds. In this mode the locator will warn you if any pet it outside of its programmed "safe zone" so you can enter track mode and recover the pet. In monitor mode, the locator will also warn you if the battery is low on any of the pets so you don't need to worry about them. In fact, if the alarm is not going off on the locator you know for certain that all of your pets are accounted for, all the batteries are charged and everything is working as it should. (Compare this to other systems where everything has to go right for you to know something is wrong!)
Overall, the Eureka Marco Polo Tracker is a good choice if you want to keep track of your cat's location close to home. This system doesn't rely on GPS or cellular technology, so your cat needs to be within the range of the locator for it to work. The typical range in suburban areas is only around 2000 feet, so it is probably more suitable use in rural areas. In open terrain it can operate at its greater range of up to 2 miles, which is exceptional for an RF tracker system. Another standout feature is the battery life, so if the range works for you, it is a great choice. The Eureka Marko Polo Tracker is our best RF cat tracker.
---
Best Budget Cat Tracker
Technology: Bluetooth
Subscription required?: No
Battery: 6 months
Size: 27 mm diameter
Weight: 7g
Range: 328 feet/100 meters
Compatibility: Andriod, iOS
The Cat Tailer offers a subscription-free and reasonably priced option for cat patents wanting to keep tabs on their furry friend.
The Cat Tailer is a Bluetooth tracker that connects to your smartphone via an app, allowing you to track your cat's location in real-time. It is small and lightweight, and easily attaches to your cat's collar.
The tracker provides location updates and can ping the app to help you locate your cat if needed. The app interface is simple and easy to use, although reports suggest that the locator isn't particularly accurate. The app also offers additional features such as real time notifications and app sharing with friends and family.
The tracker itself is tiny, weighing just 7 grams and measuring 27mm in diameter. This means it is well tolerated by cats and is suitable for even the smallest felines. As with many of the blue tooth trackers though, the 328-foot range limits it somewhat, and won't be much help if your cat has gone further afield.
In summary, the Cat Tailer's affordability and user-friendly app makes it a good choice for indoor cats or those who stay close to home.
---
Our Verdict
Cat trackers are excellent tools for monitoring the whereabouts of your cat, in order to ensure their safety and well-being. The Tractive GPS Cat Tracker is an excellent choice as it offers unlimited range and an excellent app.
Types of cat tracker
There are different types of cat trackers available in the market: GPS cat trackers, RF cat trackers, and Bluetooth cat trackers.
Each type offers unique features and functionalities to help track and locate your cat.
In the following discussion, we will explore the advantages and disadvantages of each type and discuss the best options within each category.
GPS Cat Trackers
GPS Cat Trackers are becoming increasingly popular among cat owners as a reliable and effective tool to track and locate their feline companions. These trackers utilize Global Positioning System (GPS) technology to provide real-time location updates of the cat's whereabouts, visually depicting their location on a map. They are lightweight, waterproof, and can be easily attached to the cat's collar.
GPS trackers have an integral voice, text and data SIM card inside which allows them to send their real time location data and travel history to their host via the cellular network. This is why they require a monthly subscription, and good cell coverage in order to work fully.
GPS trackers offer the longest range and the most features. They usually have excellent interfaces which run on an app on your smart phone. The downside of GPS trackers is the monthly subscription cost, and the short battery life. They can also lose signal in covered areas such as forests or buildings, and constantly trying to send a signal can quickly drain the battery.
RF Cat Trackers
Radio frequency (RF) cat trackers feature two devices. One is a radio transmitter that your cat wears, emitting inaudible radio waves. The other device is a receiver handset that you keep. The receiver measures the strength of your cat's signal, allowing you to determine the direction and proximity of your cat.
By following the signal on your handset, you can track down your missing kitty and locate them! While you won't have a map display, it's similar to playing "hotter/colder" with your cat. As you get closer, the display will light up or beep more, and it will go quiet if you move further away.
One of the benefits of RF cat trackers is that they are the smallest and lightest of all trackers. They also have good battery life. They are not power-hungry, allowing the use of smaller batteries that can last up to 1 year. However, be mindful that some trackers do not allow battery replacement, requiring you to purchase a new one when the batteries run out.
In terms of cost, radio frequency trackers fall between Bluetooth and GPS types. The advantage is that they do not require a monthly subscription for cell phone coverage, so you only need to make a one-time payment.
Furthermore, radio frequency trackers work in all countries, making them suitable for traveling with your cat.
However, radio frequency cat trackers also have limitations. They have a limited range of up to 2000 feet. If your cat roams further than this range, the device will not be able to help you locate them. In such cases, you will need to rely on other methods, such as sightings, to get closer to your cat's location and then use the device to narrow down their exact whereabouts.
Additionally, the range of radio frequency trackers is reduced when obstacles such as buildings or hills are present between you and your cat. These can disrupt the radio waves, significantly decreasing the tracking range.
Lastly, it's important to note that these trackers do not come with an app or visual display to show you exactly where your cat is. The tracker will guide you, but you will still need to put in the effort to physically locate your cat.
Bluetooth Cat Trackers
Bluetooth cat trackers offer a wireless and convenient way to track your cat's location. They provide real-time updates using your smartphone as a receiver. These trackers utilize Bluetooth technology to establish a connection between the tracker and your smartphone. Some trackers even allow you to monitor your cat's whereabouts when they are in range of any phone using Bluetooth.
Bluetooth cat trackers are lightweight and can be easily attached to your cat's collar or harness. They have an excellent battery life and unlimited range, and they do not require a monthly subscription. They don't usually offer as many features as GPS trackers, but they are much cheaper.
Bluetooth trackers work best in areas with a community of other app network users, as the tracker will need to be within range of other phones using the same network.
What to look for when choosing a cat tracker
When choosing a cat tracker, it's important to consider several key factors. These include:
App features: Do you want to monitor your pets activity and sleep levels? Join a community with other active pets? Do you need to share access with family and friends? If you want lots of features and information from your pet's tracker then it's worth looking into what each tracker offers.
Range of the tracker
Battery life and charging time: Most GPS trackers require charging every 3-7 days, so make sure you select one that fits in with your pet's lifestyle.
Size and weight of the tracker: GPS trackers give the weight range of the pet they are suitable for. If you have a small pet, look for a smaller, lighter tracker.
Waterproof vs water-resistant: A GPS tracker should really be waterproof to withstand the rigours of pet activity.
Cellular coverage: Your GPS tracker won't work properly in areas of poor cell coverage.
Each of these points is discussed in more detail below.
App Features
One important consideration when choosing a cat tracker is the user-friendliness of its accompanying app. This is how you track your cat's location and access additional features.
The best apps provide real-time tracking on a map, allowing you to monitor your cat's movements and whereabouts.
Some apps also offer additional features such as setting up safe zones or geofences, which send notifications when the cat goes outside of a designated area.
User-friendliness is also crucial, as a complicated or difficult-to-navigate app may deter you from using the tracker effectively.
Range
In evaluating cat trackers, it is crucial to consider the range of the device, as it determines the maximum distance at which the tracker can accurately locate the cat.
The range of a cat tracker is typically determined by the technology it uses, such as GPS, radio frequency, or Bluetooth. GPS cat trackers generally have the widest range, allowing for tracking over long distances, both indoors and outdoors.
Radio frequency trackers have a more limited range, usually within a few hundred feet, making them better suited for tracking in close proximity.
Bluetooth trackers have the shortest range, typically within 100 feet, making them more suitable for tracking in a smaller area. However, if the Bluetooth tracker belongs to a community network, then the range becomes unlimited.
When choosing a cat tracker, it is important to consider the specific needs of your cat and the environment in which they will be tracked. If your cat likes to roam for miles, then a GPS or Bluetooth tracker would be more suitable.
Battery Life
The battery life of a cat tracker is an essential factor to consider when selecting the most suitable device for tracking your feline companion's whereabouts. A longer battery life ensures that you can track your cat for an extended period without worrying about the device running out of power. Regular charging can be a real pain, especially if your cat doesn't come home every day. There is nothing worse than the tracker running out of charge while your cat is on the move, and they effectively become missing in action.
Some cat trackers offer battery lives that last for days, while others can last for weeks. Consider the activities and habits of your cat, as well as your own tracking preferences, to determine the ideal battery life for your needs.
Comfort and Security
When choosing a cat tracker, it is important to consider the comfort and security of your cat. The tracker should be lightweight and securely attach to their collar or harness, ensuring that it does not cause any discomfort or irritation to your furry friend. If you have a small cat, check the weight and size of the tracker because some of them (in particular the GPS trackers) are quite big.
Frequently Asked Questions
Are GPS Cat Trackers Safe for Cats to Wear?
GPS cat trackers are safe for cats to wear. They are lightweight, waterproof, and designed to attach securely to the cat's collar.
However, there are some risks associated with cats wearing collars. The collar can get caught on branches whilst the cat is exploring, and even with quick release fittings they can still cause injury or worse. Collars can also rub, and cause hair loss and sore skin around the neck. Always use collars with a quick release safety feature, and test it regularly to make sure it works.
Can Cat Trackers Be Used for Indoor Cats?
Yes, cat trackers can be used for indoor cats. Cat trackers provide real-time location updates and can help locate indoor cats if they accidentally run away.
How Accurate Are Cat Trackers in Locating a Lost Cat?
Cat trackers are usually highly accurate in locating lost cats. They use various technologies to provide real-time tracking and precise location information. This ensures that owners can quickly and effectively find their missing feline companions. Some environments can cause issues however, such as thick undergrowth, heavy forest or amongst buildings. Such obstacles can interfere with the tracking technology and may mean the cat cannot be located.
Do Cat Trackers Have a Range Limitation?
Yes, some cat trackers do have a range limitation. The range varies depending on the tracker, with some RF trackers having a few hundred feet range and others such as GPS trackers offering unlimited range.
Do Cat Trackers Require a Monthly Subscription?
Yes, some cat trackers, particularly GPS trackers, require a monthly subscription. This subscription covers the cost of the GPS tracking service, which allows you to monitor your cat's location in real-time.
Conclusion
In conclusion, cat trackers are excellent tools for ensuring the safety and well-being of our feline companions.
With advancements in technology, these trackers offer real-time tracking and monitoring capabilities, allowing cat owners to quickly locate their lost or wandering cats.
By considering the key features and types of trackers available, cat owners can make an informed decision to protect their cats and provide themselves with peace of mind.