Here is our list of the top 12 friendliest, most affectionate and loving breeds of cat.
As a former volunteer at a cat shelter, I've dealt with all breeds of cat. Drawing from my own experience, plus researching information from cat breeding organisations such as the Governing Council of the Cat Fancy, I have compiled my own list of the friendliest cat breeds.
All of the breeds in this list are loving and affectionate, and enjoy human company and interaction. They all have other characteristics which may or may not suit your household, so please click on the links below or read on for further information.
1 Maine Coon
2 Siamese
3 Sphynx
4 Ragdoll
5 Abyssinian
6 Persian
7 Burmese
8 Norwegian Forest Cat
9 Snowshoe
10 Exotic Shorthair
11 Birman
12 The Domestic Moggy/Mixed Breed
Read on to find out more about each breed, including their pros and cons.
1 Maine Coon
Originating from Maine, USA in the 1850s, they are striking looking, large, semi-long haired cats with tufted paws and ears.

Pros: Gentle and affectionate with people, children, dogs and other cats, Maine Coons are also vocal, intelligent, playful, loyal, independent and like water.
Cons: Maine Coons can grow huge (males 10-18lbs, females 7-12lbs) so need space and cost more to feed than smaller breeds. Their long hair needs weekly grooming. They need company (human or other pets) and can be very vocal.
2 Siamese
Medium sized cat originating from what is now Thailand, with a slender, athletic body and mesmerising blue eyes.

Pros: Known for their extrovert personality, Siamese cats are extremely noisy and demand attention from all of the family. They are very loyal, and being short haired, don't require grooming.
Cons: Siamese cats don't like to be left alone, they need company – either human or another Siamese. They are highly intelligent and need to be kept amused with toys and scratching posts.
3 Sphynx
Medium sized cat with large ears and a complete lack of fur.

Pros: According to the Governing Council of the Cat Fancy, the Sphynx cat is one of the most affectionate and sociable cats in the world. They want to be with you 24/7, will cuddle up and sleep with you, and are very vocal. They are outgoing and intelligent, and like children and other cats and dogs.
Cons: Sphynx cats cannot go outside as they will get sunburnt, and have little protection from rough surfaces or plant matter, or any neighbouring feisty cats.
4 Ragdoll
Large semi-long haired cats with stunning blue eyes.

Pros: Ragdolls are known for their gentle, affectionate, laid back temperament. They love attention from humans and other animals without being demanding. Ragdolls love to be picked up and cuddled. They don't tend to climb but will jump on a sofa or bed for a snuggle and a nap.
Cons: Ragdoll's coats require weekly grooming. They need exercise through play to keep them fit and healthy as they can be prone to obesity. Outdoor access should be secure as they can get themselves lost or stolen trying to make friends.
5 Abyssinian
One of the oldest known cat breeds, dating back to ancient Egypt. Short haired cat with a glossy coat and large ears.

Pros: Very people oriented, Abyssinians like to be involved in what you are doing and often follow their owners around the house. Vocally quiet, will "chirrup" rather than meow.
Cons: Energetic and willful, Abyssinians are curious explorers who are always on the move. They love to run, jump, climb and explore, and will need a good selection of toys and multi-level cat trees or shelves to keep them entertained.
6 Persian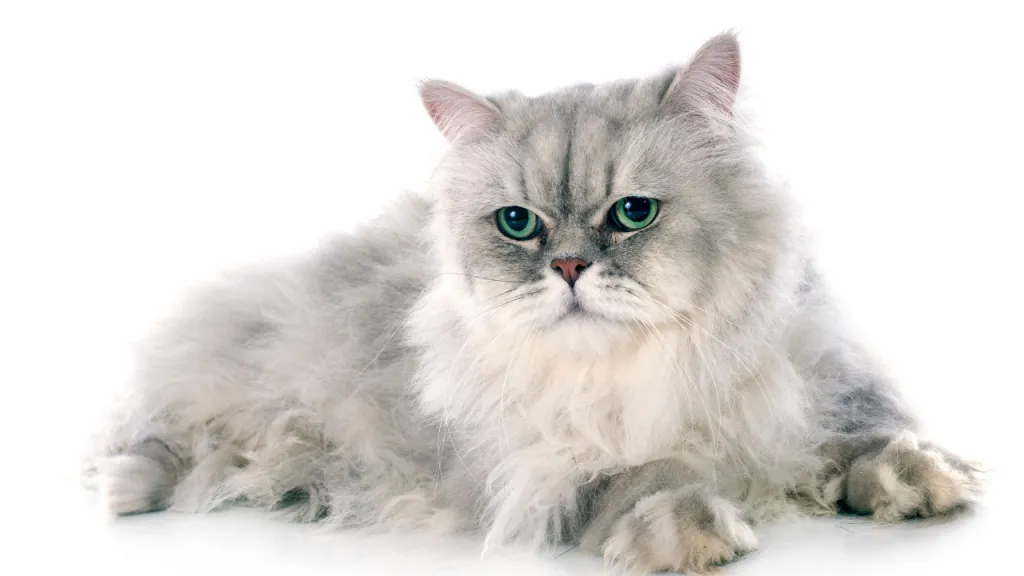 Beautiful long-haired cat which comes in a huge array of colours and patterns.

Pros: Persians have a sweet and gentle nature and enjoy a calm environment where they can be petted and curl up on a lap to sleep. They can be playful but are not demanding and don't tend to climb, preferring to stay on the ground.
Cons: Persians have long hair which will require daily grooming and regular baths. Their large eyes can attract dust and need wiping daily.
7 Burmese
Short-haired elegant cat with large, golden yellow eyes and a glossy coat.

Pros: Outgoing and energetic, Burmese cats love the company of people, as well as dogs, children and other cats. They are intelligent and playful and enjoy interactive games such as fetch and hide-and-seek. They will form an almost dog-like bond with their human and are renowned for winning over "non-cat people" with their affectionate personalities.
Cons: Burmese cats do not like to be left alone. They must be kept as indoor cats as they are fearless and not street smart, grow no winter coat and may be stolen.
8 Norwegian Forest Cat
Large, long-haired muscular cats with a full coat and a long bushy tail.

Pros: Friendly, calm and gentle, Norwegian Forest Cats are very affectionate, love people and are good with children and other animals. They take a long time to mature (up to 5 years) so their playful kitten stage can be enjoyed for longer than other breeds. They are not easily stressed and can cope with short periods alone.
Cons: Norwegian Forest Cats love to climb – all of your high shelves will need cat proofing. They need to be kept cool in hot weather with shade, air conditioning or even a haircut. They need a lot of grooming. They also need a lot of room to play and express their hunting instincts with toys. They need an extra large litter box.
9 Snowshoe
Short-haired medium sized cat with four snow white paws. Hybrid of the Siamese and American Shorthair.

Pros: Affectionate and sociable, Snowshoes get on well with children, dogs and other cats. They can form very strong bonds with their human, and can also be very vocal. As well as being energetic and intelligent they are a low shedding breed.
Cons: Snowshoes can be demanding of attention, and don't like being left alone.
10 Exotic Shorthair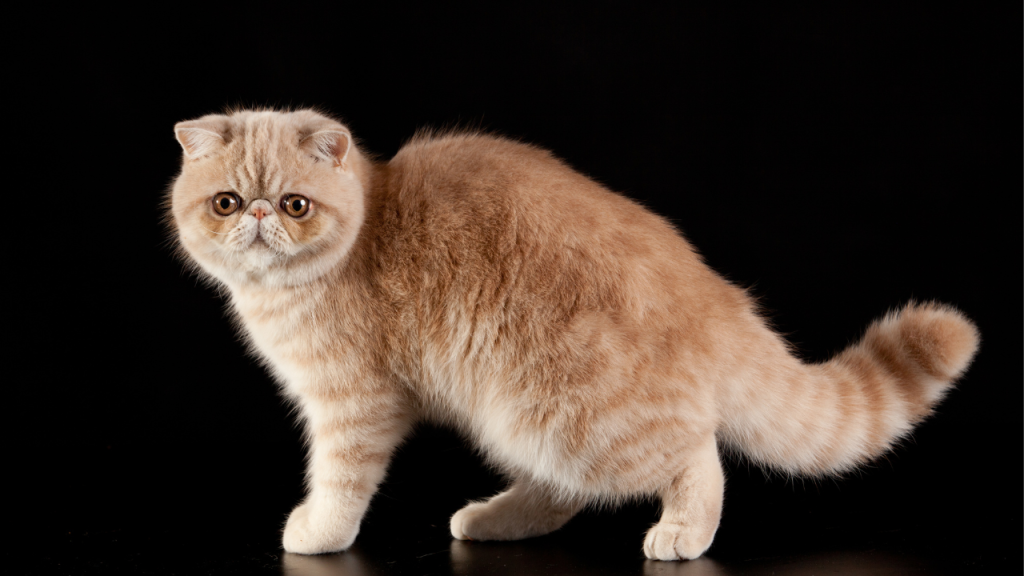 Evolved from crossing Persian cats with American Shorthairs, these large cats retain the traits of the Persian but with considerably shorter hair.

Pros: Gentle and affectionate, Exotics are the ultimate lap cat who love to be with people. More playful than the Persian, their beautiful plush coat makes you want to pick them up and cuddle them.
Cons: The Exotic's large eyes can attract irritants, so their face should be bathed daily to avoid tear stains. They can be prone to respiratory problems.
11 Birman
Beautiful semi-long haired cat with four white feet and striking blue eyes.

Pros: Birmans adore people and will follow their human from room to room. They are affectionate and playful with a soft, chirp-like meow, and they enjoy having conversations if you respond. These gentle cats get along with pretty much everyone, including children, dogs and other cats. They are tolerant and patient, as well as playful and inquisitive. They are also a very healthy breed with no noted breed-specific health issues. Their silky coat isn't prone to matting although they would benefit from a weekly brushing.
Cons: Birman cats do not like to be left alone. They are also moderate shedders.
12 The Domestic Moggy/Mixed Breed
Non pedigree cats come in all shapes and sizes.

Pros: Easy to find in shelters and rescue centres, mixed breeds are often healthier and live longer than their pedigree counterparts according to the Journal of Feline Medicine.  Given love and attention, most cats will be just as affectionate and friendly as a purebred cat.  They are cheaper to buy/adopt, can be cheaper to insure and are less likely to get stolen.
Cons: Mixed breeds lack the kudos of a pedigree cat, and it's hard to gauge how big they will grow.
Now that you have chosen your favourite breed, see our guide on Cat Names to choose your future furry friend's name.